Poster
Regidor, Jose Luis; Portilla, Clara; Valcarcel, Juan; Roig, Pilar:
Pictorial reconstruction of Palomino's frescos in the church of the Santos Juanes in Valencia
2020
zum Download
DOI (Digital Object Identifier)
Zugehörige Website
Veranstaltung/Präsentation
Beteiligte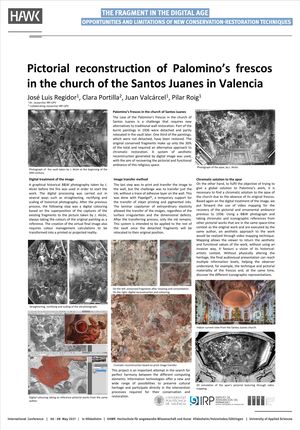 This project is an important attempt in the search for perfect harmony between the different computing elements. Information technologies offer a new and wide range of possibilities to preserve cultural heritage and participate directly in the intervention processes required for their conservation and restoration.
Das Fragment im digitalen Zeitalter
Möglichkeiten und Grenzen neuer Techniken in der Restaurierung
Internationale Tagung der HAWK
(Fakultät Bauen und Erhalten und Hornemann Institut)
Zeit: 6. - 8. Mai 2021
Online-Postersektion Oktober 2020
zum Download (pdf-Format, ca. 1.11 MB)

Dieses Werk steht unter einer Creative Commons BY-NC-ND 3.0 Deutschland Lizenz.
10.5165/hawk-hhg/470
Jose Luis Regidor (Autor/in)
Universitat Politècnica de València
Clara Portilla (Autor/in)
Universitat Politècnica de València
Juan Valcarcel (Autor/in)
Universitat Politècnica de València
Pilar Roig (Autor/in)
Universitat Politècnica de València