Poster
Muca, Sokol; De Palma, Giovanna:
Moving form a culture of fragments towards a full digital image: a critical analysis of virtual reality in the practice of conservation-restoration
2020
zum Download
DOI (Digital Object Identifier)
Zugehörige Website
Veranstaltung/Präsentation
Beteiligte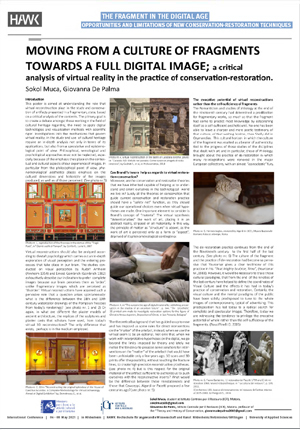 This poster is aimed at understanding the role that virtual reconstruction plays in the study and conserva­tion of artifacts which are presented in a fragmentary state, based on a critical analysis of the contents. The primary objective was to create a debate amongst those working in the field of cultural heritage regarding the need to apply digital technologies and visualization methods with scientific rigor.
Das Fragment im digitalen Zeitalter
Möglichkeiten und Grenzen neuer Techniken in der Restaurierung
Internationale Tagung der HAWK
(Fakultät Bauen und Erhalten und Hornemann Institut)
Zeit: 6. - 8. Mai 2021
Online-Postersektion Oktober 2020
zum Download (pdf-Format, ca. 1.1 MB)

Dieses Werk steht unter einer Creative Commons BY-NC-ND 3.0 Deutschland Lizenz.
10.5165/hawk-hhg/471
Sokol Muca (Autor/in)
Istituto Centrale per il Restauro (ICR)
Giovanna De Palma (Autor/in)
Istituto Centrale per il Restauro (ICR)