Poster
Tissen, Liselore:
3D printing - The merits for research, conservation and presentation
2020
zum Download
DOI (Digital Object Identifier)
Zugehörige Website
Veranstaltung/Präsentation
Beteiligte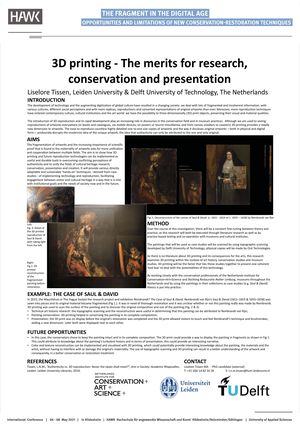 The development of technology and the augmenting digitization of global culture have resulted in a changing society: we deal with lots of fragmented and incoherent information, with various cultures, different social perceptions and with more replicas, reproductions and converted representations of original artworks than ever. Moreover, more reproduction techniques have entered contemporary culture, cultural institutions and the art world: we have the possibility to three-dimensionally (3D} print objects, preserving their visual and material qualities.
Das Fragment im digitalen Zeitalter
Möglichkeiten und Grenzen neuer Techniken in der Restaurierung
Internationale Tagung der HAWK
(Fakultät Bauen und Erhalten und Hornemann Institut)
Zeit: 6. - 8. Mai 2021
Online-Postersektion Oktober 2020
zum Download (pdf-Format, ca. 2.08 MB)

Dieses Werk steht unter einer Creative Commons BY-NC-ND 3.0 Deutschland Lizenz.
10.5165/hawk-hhg/472
Liselore Tissen (Autor/in)
Leiden University & Delft University of Technology, The Netherlands