Poster
Skwara, Bogna:
Virtual reconstruction; a new way of understanding?
2020
zum Download
DOI (Digital Object Identifier)
Zugehörige Website
Veranstaltung/Präsentation
Beteiligte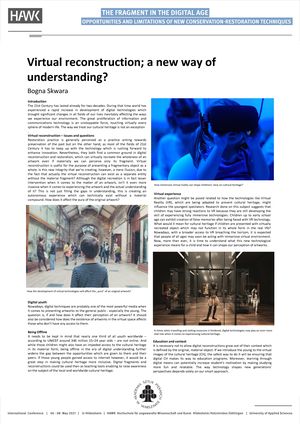 The 21st Century has lasted already for two decades. During that time world has experienced a rapid increase in development of digital technologies which brought significant changes in all fields of our lives inevitably affecting the ways we experience our environment. The great proliferation of information and communications technology is an unstoppable force, touching virtually every sphere of modern life. The way we treat our cultural heritage is not an exception.
Das Fragment im digitalen Zeitalter
Möglichkeiten und Grenzen neuer Techniken in der Restaurierung
Internationale Tagung der HAWK
(Fakultät Bauen und Erhalten und Hornemann Institut)
Zeit: 6. - 8. Mai 2021
Online-Postersektion Oktober 2020
zum Download (pdf-Format, ca. 1.15 MB)

Dieses Werk steht unter einer Creative Commons BY-NC-ND 3.0 Deutschland Lizenz.
10.5165/hawk-hhg/474
Bogna Skwara (Autor/in)
Akademia Sztuk Pięknych w Warszawie