Poster
Farkash, Shay; Tal, Mika:
Sgraffito in Israel
2017
zum Download
DOI (Digital Object Identifier)
Zugehörige Website
Veranstaltung/Präsentation
Beteiligte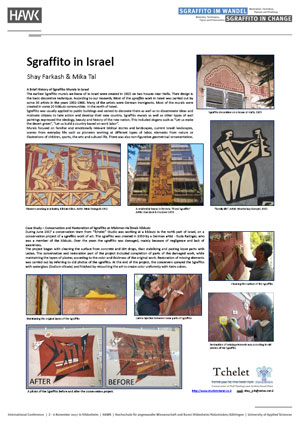 Poster by Shay Farkash and Mika Tal, introducing a brief historyof sgraffito murals in Israel an case study–conservation and Restoration of sgraffito at mMishmar-Ha'Emek kibbutz.
Sgraffito in Change. Materials, Techniques, Topics, and Preservation
by
HAWK Hochschule Hildesheim/Holzminden/Göttingen,
Niedersächsisches Landesamt für Denkmalpflege (NLD)
2.-4. November 2017, Hildesheim
zum Download (pdf-Format, ca. 2.48 MB)

Dieses Werk steht unter einer Creative Commons BY-NC-ND 3.0 Deutschland Lizenz.
10.5165/hawk-hhg/353
http://www.hornemann-institut.de/german/Sgraffito_Tagung.php
Shay Farkash (Autor/in)
Icomos Israel
Lod
Israel

Mika Tal (Autor/in)
Evergreene Studio
New York
USA