Poster
Orabi, Ezz A.; K.Khallaf, Mohamed:
A Comparative Study between using of Nanomaterials and Silicon Based Polymers in the Consolidation of Archaeological Nubian Sandstone
2018
zum Download
DOI (Digital Object Identifier)
Zugehörige Website
Veranstaltung/Präsentation
Beteiligte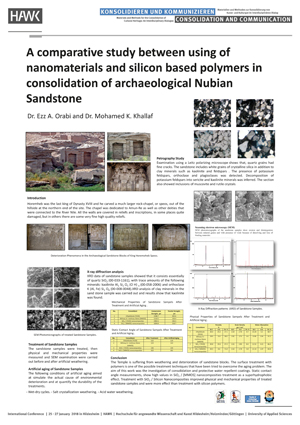 Nubian Sandstone at Gebel el-Silsila was used in building huge ancient Egyptian temples in Upper Egypt, such as Dendara, Karnak, Loxour, Esna, Edfo, Kom Ombo and Philae Temple. Some rock chapels were also carved into the mountain, such as the rock chapel of Horemheb XVIII Dynasty. All the rock chapel walls are covered in reliefs and inscriptions, in some places quite damaged, but in others there are some very fine high-quality reliefs. Some sandstone samples were taken to be examined and analyzed using an optical polarizing microscope (OPM), scanning electron microscope (SEM) and X-ray diffraction (XRD). The sandstone samples were treated. Their physical and mechanical properties were measured before and after artificial weathering. The following conditions of artificial aging aimed at simulating the actual cause of environmental deterioration and at quantifying the durability of the treatments. The research ended with some important conclusions, as the chapel is suffering from weathering and deterioration of its sandstone blocks. The surface treatment with polymers is one of the possible treatment techniques that have been tried to overcome the aging problem. Static contact angle measurements show high values in SiO2/ [MMOS] nano composites treatment as a super hydrophobic effect and treatment with SiO2 /silicon nano composites improved physical and mechanical properties of treated sandstone samples and were more effective than treatment with silicon polymers.
Consolidation and Communication. Materials and Methods for the Consolidation of Cultural Heritage: An Interdisciplinary Dialogue.
HAWK University of Applied Sciences and Arts Hildesheim/Holzminden/Göttingen, Hildesheim 25-27 January 2018
zum Download (pdf-Format, ca. 2.09 MB)

Dieses Werk steht unter einer Creative Commons BY-NC-ND 3.0 Deutschland Lizenz.
10.5165/hawk-hhg/355
Ezz A. Orabi (Autor/in)
Aswan University, Faculty of Archaeology, Egypt

Mohamed K.Khallaf (Autor/in)
Fayoum University, Faculty of Archaeology, Egypt