Poster
Kasiulytė, Rūta:
Consolidation Aspect in the Restoration of Large-Format Paintings
2018
zum Download
DOI (Digital Object Identifier)
Zugehörige Website
Veranstaltung/Präsentation
Beteiligte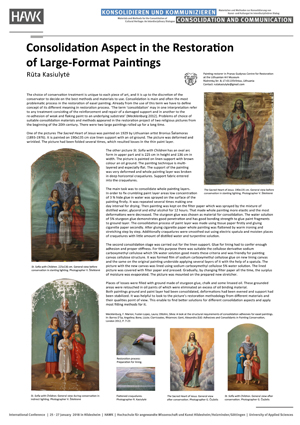 Problems in choosing the suitable consolidation materials and methods arose in the restoration project of two religious pictures from the beginning of the 20th century. There were two large paintings without stretchers, rolled up for a long time. One of the pictures, The Sacred Heart of Jesus, was painted on 190x135 cm size fabric linen support with an oil base. Before being rolled up, the picture had been folded several times, which resulted in losses in the thin paint layer. The support of the painting was deformed and wrinkled. The other picture, St. Sofia with Children, had an oval arc form in upper part and was 225 cm in height and 136 cm in width. The support of this painting had a lot of deformations and whole painting layer was broken in deep horizontal craquelures. The largest figured loss of the painting layer around 60 cm2 size was located in the upper part of the painting. The most important thing was to find a method of consolidating the entire painting structure and strengthening the painting support so that it would be stabilized. The crumbling places of the paint layer in the St. Sofia with Children painting were consolidated first by spraying them with low-concentration hide glue. Then, the consolidation process for the paint layer was completed using a water solution of 5% sturgeon glue, which demonstrates good penetration and has good bonding strength to glue paint fragments to the base layer. Additionally, craquelures were smoothed out with the help of an electric spatula. The paint layer of The Sacred Heart of Jesus painting was consolidated with hide glue and cigarette paper by flattening it with a warm ironing and stretching it step by step. The other consolidation stage was carried out for the linen support. The linen support of both paintings was too thin to maintain such a damaged layer of paint. The support was consolidated by lining a new linen canvas with Tylose C 300 sodium carboxymethyl cellulose, as the substance that meets the restoration criteria best in this case. The restoration process was completed by priming and retouching losses in the paint layer.
Consolidation and Communication. Materials and Methods for the Consolidation of Cultural Heritage: An Interdisciplinary Dialogue.
HAWK University of Applied Sciences and Arts Hildesheim/Holzminden/Göttingen, Hildesheim 25-27 January 2018
zum Download (pdf-Format, ca. 2.63 MB)

Dieses Werk steht unter einer Creative Commons BY-NC-ND 3.0 Deutschland Lizenz.
10.5165/hawk-hhg/357
Rūta Kasiulytė (Autor/in)
Pranas Gudynas Centre for Restoration at the Lithuanian Art Museum
Vilnius