Poster
K.Khallaf, Mohamed; Orabi, Ezz A.:
Evaluation of Consolidation and Superhydrophobic Nanomaterials Effects in the Treatment of Archaeological Anfoushi Tombs Wall Paintings, Alexandria, Egypt
2018
zum Download
DOI (Digital Object Identifier)
Zugehörige Website
Veranstaltung/Präsentation
Beteiligte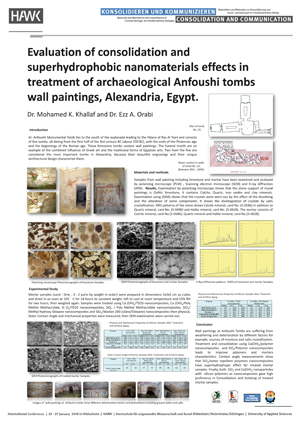 Al-Anfoushi Monumental Tombs date from the first half of the 3rd century BC (about 250 BC), including the ends of the Ptolemaic age and the beginnings of the Roman age: these limestone tombs contain wall paintings. Samples from wall painting including limestone and mortar have been examined and analyzed. Examination using a polarizing microscope shows that the stone support of mural paintings is Oolitic limestone; it contains calcite, quartz, iron oxides and clay minerals. Examination using SEM shows the disintegration of crystals by salts crystallization. XRD patterns of the stone shows a calcite mineral, in addition to quartz and halite. The mortar consists of calcite, card No. (5-0586), quartz and halite. Mortar samples (sand: lime, 3:2 parts by weight in order) were prepared in dimensions of 5x5x5 cm as cubes. Samples were treated using Ca(OH)2/TEOS nanocomposites, Ca(OH)2/ poly methyl methacrylate, SiO2/TEOS nanocomposites, SiO2/poly methyl methacrylate nanocomposites, SiO2/ methyl hydroxy siloxane nanocomposites and SiO2/wacker 290 (silane/Siloxane) nanocomposites, then physical, static contact angle and mechanical properties were measured, then SEM examination was carried out. Wall paintings in the Anfoushi tombs all suffer from weathering and deterioration due to different factors, for example, sources of moisture and salts crystallization. Treatment and consolidation using Ca(OH)2/polymer nanocomposites and SiO2/polymer nanocomposites lead to the improvement of the characteristics of the polymers and mortars. Contact angle measurements show that SiO2/water-repellent polymers nanocomposites have a superhydrophopic effect for treated mortar samples. Finally, both SiO2 and Ca(OH)2 nanoparticles with silicon polymers as nanocomposites gave high proficiency in the consolidation and isolation of treated mortar samples.
Consolidation and Communication. Materials and Methods for the Consolidation of Cultural Heritage: An Interdisciplinary Dialogue.
HAWK University of Applied Sciences and Arts Hildesheim/Holzminden/Göttingen, Hildesheim 25-27 January 2018
zum Download (pdf-Format, ca. 2.63 MB)

Dieses Werk steht unter einer Creative Commons BY-NC-ND 3.0 Deutschland Lizenz.
10.5165/hawk-hhg/358
Mohamed K.Khallaf (Autor/in)
Fayoum University, Faculty of Archaeology, Egypt

Ezz A. Orabi (Autor/in)
Aswan University, Faculty of Archaeology, Egypt