Poster
Léchenne, Manon; Soppa, Karolina:
The Re-Adhesion of Flaking Chalk Ground with Methylcellulose
2018
zum Download
DOI (Digital Object Identifier)
Zugehörige Website
Veranstaltung/Präsentation
Beteiligte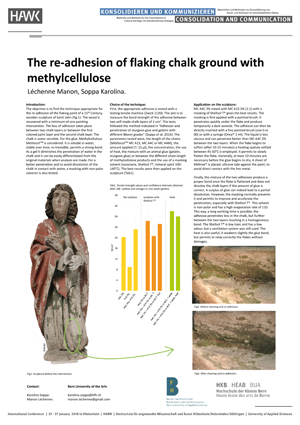 This poster presents the study to find the appropriate adhesive for the re-adhesion of flaking paint on a 15th century wooden polychrome sculpture. Methylcellulose A4C and mixtures with methylcellulose A15 were investigated, with and without pre-wetting using ethanol, isooctane and Shellsol T. The benefits of methylcellulose are: durable, soluble in water or in organic solvents and the viscosity is adaptable. Tensile strength was measured with a tensile testing machine (Zwick 1120), as described in the "adhesion and penetration of sturgeon glue and gelatine with different Bloom grades" (Soppa et al. 2014). The adhesives selected were applied between two chalk layers (test flakes). The results revealed that pure methylcellulose Methocel® A4C (middle sized chains) with a Shellsol T prewetting can hold the paint flakes together particularly well with a low concentration of 3%. If mixed (1:1) with Methocel® A15 (short sized chains), it lowers the viscosity to permit a better penetration between the paint layers. An additional prewetting with Shellsol T and the use of a heat spatula resulted in a very satisfactory bond.
Consolidation and Communication. Materials and Methods for the Consolidation of Cultural Heritage: An Interdisciplinary Dialogue.
HAWK University of Applied Sciences and Arts Hildesheim/Holzminden/Göttingen, Hildesheim 25-27 January 2018
zum Download (pdf-Format, ca. 2.04 MB)

Dieses Werk steht unter einer Creative Commons BY-NC-ND 3.0 Deutschland Lizenz.
10.5165/hawk-hhg/359
Manon Léchenne (Autor/in)
Bern University of the Arts

Karolina Soppa (Autor/in)
Bern University of the Arts