Poster
Möller, Sandra; Pataki-Hundt, Andrea:
Treatment Guidelines for the Consolidation of Miniatures
2018
zum Download
DOI (Digital Object Identifier)
Zugehörige Website
Veranstaltung/Präsentation
Beteiligte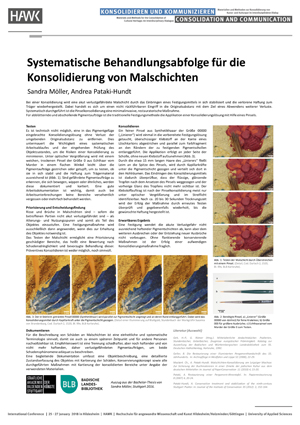 A systematic description of the traditional consolidation treatment performed by brush is a desideratum. There is also great uncertainty about the ethical limits, the decisionmaking required on behalf of a treatment and the change in condition that can be expected. For this reason, a stepby-step working sequence was developed in word and picture for the consolidation of flaking or cupping pigment layers in manuscript illuminations on parchment. The workflow includes condition assessment, decision-making, documentation and the consolidation treatment itself. Additionally, ethical conservation principles and limits have been discussed with regard to the irreversible introduction of a consolidant into the friable pigment layer. The result of the project was the creation of an illustrated manual for the consolidation of painted illuminations by brush and 1.5% sturgeon glue in water. Two manuscripts with luxurious illuminations from the Badische Landesbibliothek Karlsruhe have been examined and partially treated: Lichtenthal 26 (psalter, dated 1250-1270) and Durlach 2 (prayerand devotional book of hours of Margravine Susanna of Brandenburg, dated 1520). In addition, terminology has been suggested for the description of the damages typical of paint layers in books. It distinguishes between adherent and nonadherent pigment layers and thus assists in the decisionmaking process concerning the need for consolidation.
Consolidation and Communication. Materials and Methods for the Consolidation of Cultural Heritage: An Interdisciplinary Dialogue.
HAWK University of Applied Sciences and Arts Hildesheim/Holzminden/Göttingen, Hildesheim 25-27 January 2018
zum Download (pdf-Format, ca. 2.51 MB)

Dieses Werk steht unter einer Creative Commons BY-NC-ND 3.0 Deutschland Lizenz.
10.5165/hawk-hhg/360
Sandra Möller (Autor/in)
Staatliche Akademie der Bildenden Künste Stuttgart

Andrea Pataki-Hundt (Autor/in)
TU Köln