Poster
Strobl, Sebastian:
Painting with Beads: A Call for Disaster – and how to make good for it
2018
zum Download
DOI (Digital Object Identifier)
Zugehörige Website
Veranstaltung/Präsentation
Beteiligte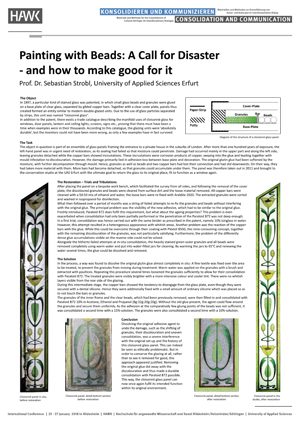 Cloisonné glass is a kind of stained glass, where small glass beads and granules are glued with isinglass on a base plate of clear glass, separated by gilded copper bars. Together with a clear cover plate, such a panel forms an entity comparable with double-glazed units. More often than not, environmental impact has led to adhesion-loss between base plate and decoration, as was the case with a panel from a private house in London, which underwent restoration in the conservation laboratory of the University of Applied Sciences in Erfurt between 2011 and 2015. Following the separation of the cover plate, the discoloured granules and beads were cleared from surface dirt and the loose material was removed. All copper bars were cleaned with a 50:50 mix of ethanol and water, the loose bars were re-fixed with Araldite 2020. The extracted granules were sorted and washed in isopropanol for disinfection. What then followed over a period of months was a string of failed attempts to re-fix the granules and beads without interfering with the original glue, which was according to the patent of 1897 10% isinglass in water – but this turned out to be impossible. However, a way was found in the process to dissolve and remove the original glutin glue in situ almost completely: A fine textile was fixed over the area to be treated, to prevent the granules from moving. Warm water was applied on the granules and extracted with poultices. This procedure loosened the granules sufficiently to allow for their consolidation with Paraloid B72. Those granules and glass beads, which previously had to be removed, were then filled-in and consolidated with Paraloid B72 10% in Acetone, Ethanol and Propanol (8g:32g:20g:20g). Without the old glue present, the agent could flow around the granules and secure them uniformly. As the adhesion at the comparatively few gluing points of the beads was not sufficient, it was consolidated a second time with a 15%-solution. The granules were also consolidated a second time with a 10%-solution. Dissolving the original adhesive agent to undo the damage and to make way for Paraloid B72 was a severe interference with the original set-up and the history of this cloisonné glass panel. This can indeed be seen as ethically problematic. But in order to conserve the panel at all, rather than to see it removed for good, this approach appeared justified. This way, the cloisonné glass panel can now once again act in its intended function within its original environment.
Consolidation and Communication. Materials and Methods for the Consolidation of Cultural Heritage: An Interdisciplinary Dialogue.
HAWK University of Applied Sciences and Arts Hildesheim/Holzminden/Göttingen, Hildesheim 25-27 January 2018
zum Download (pdf-Format, ca. 2.5 MB)

Dieses Werk steht unter einer Creative Commons BY-NC-ND 3.0 Deutschland Lizenz.
10.5165/hawk-hhg/361
Sebastian Strobl (Autor/in)
University of Applied Sciences FH Erfurt