Poster
Endara, Ramiro; Davila, Veronica:
Conservation of the Madonna of the Ladder, the Method of Expansive Polyurethane
2018
zum Download
DOI (Digital Object Identifier)
Zugehörige Website
Veranstaltung/Präsentation
Beteiligte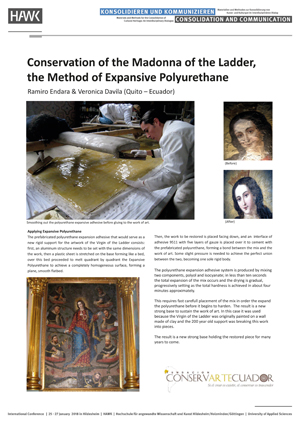 The Madonna of the Ladder (mural work considered the most precious of the historical city of Quito - Ecuador) was embodied in the year of 1600 in the adobe wall of the La Recoleta convent (16th century) by father Bedón. In the year 2008 we were honored to be selected by the municipality of Quito for the conservation and restoration of this important work of art, which aims to return the solidity that it originally had on the adobe mud wall to a new support stand, easel. Through the use of expansive polyurethane, where a component of polymer and another catalyst, are mixed, and in less than ten seconds later occurs the total expansion and the gradual drying of the polyurethane that is slowly brewing, then placing it on the back side of the painting until it reaches the required strength in about 4 minutes after scattering, to have prefabricated expansive polyurethane which would serve as a rigid support for this work of art. The replacement of the picture s support from wall to easel required to count with the same solidity and durability characteristics. This is the reason why the synthetic foam was selected "expansive polyurethane" for being a fairly strong and stable material, some of its characteristics include: maximum energy saving. - insulator of lower thermal conductivity, is immune to rust, rot-proof, odorless and does not produce harm to the health, is a reversible and innocuous product. Prior to the union of the polyurethane with the pictorial layers it is important to set an interface as part of the reversible method.
Consolidation and Communication. Materials and Methods for the Consolidation of Cultural Heritage: An Interdisciplinary Dialogue.
HAWK University of Applied Sciences and Arts Hildesheim/Holzminden/Göttingen, Hildesheim 25-27 January 2018
zum Download (pdf-Format, ca. 2.19 MB)

Dieses Werk steht unter einer Creative Commons BY-NC-ND 3.0 Deutschland Lizenz.
10.5165/hawk-hhg/362
Ramiro Endara (Autor/in)
Conservartecuador Foundation
Quito
Ecuador

Veronica Davila (Autor/in)
Conservartecuador Foundation
Quito
Ecuador