Poster
Shekofteh, Atefeh; Molina Piernas, Eduardo; Arizzi, Anna; Rueda Quero, Lucía; Cultrone, Giuseppe; Oudbashi, Omid:
Consolidation assessment of two inorganic materials on the beige limestone used in Pasargadae (Word Heritage Site in Iran)
2018
zum Download
DOI (Digital Object Identifier)
Zugehörige Website
Veranstaltung/Präsentation
Beteiligte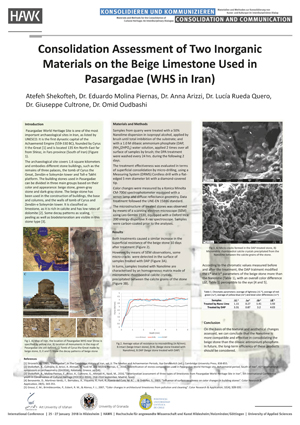 Pasargadae Wolrd Heritage Site related to Achaemenid period in Iran (6th century BC). Pasargadae was built using three different types of limestone which differ in color. In this study, beige limestone has been chosen for consolidation treatment because of its decay, as in scaling and peeling. Two products; nano-lime and ammonium phosphate were considered to consolidate the limestone. These two inorganic products are very promising due to their compatibility with limestone as well as their water solubility and absence of toxicity. Consolidation treatment was conducted on samples from quarry and applied by brush with 50% nano-lime dispersion in isopropyl alcohol and a 1.0 M dibasic ammonium phosphate (DAP, (NH4)2HPO4) water solution. The treatment effects were evaluated in terms of superficial consolidation with a micro-drilling test and in terms of color changes by spectrophotometry. The microstructure treated was observed by scanning with an electron microscope (SEM). In both treatments, the results indicate an increase of superficial resistance. The resistance increase in 10 days after treatment was similar in both. On the contrary, spectrophotometry revealed some yellowish color in samples treated with DAP that is a negative for using on bright stones. Through SEM observation, some micro-cracks ewere detected in the surface, especially in those samples treated with DAP. In conclusion, nano-lime material seems more compatible for beige limestone according to the aesthetic (color and lightness) as well as homogeneous layer that probably is sufficient for open-air archaeological architectures. In future, the long-term efficiency of these products should be taken into consideration.
Consolidation and Communication. Materials and Methods for the Consolidation of Cultural Heritage: An Interdisciplinary Dialogue.
HAWK University of Applied Sciences and Arts Hildesheim/Holzminden/Göttingen, Hildesheim 25-27 January 2018
zum Download (pdf-Format, ca. 2.38 MB)

Dieses Werk steht unter einer Creative Commons BY-NC-ND 3.0 Deutschland Lizenz.
10.5165/hawk-hhg/363
Atefeh Shekofteh (Autor/in)
Art University of Isfahan, Faculty of Conservation
Iran

Eduardo Molina Piernas (Autor/in)
University of Granada, Faculty of Science

Anna Arizzi (Autor/in)
University of Granada, Faculty of Science

Lucía Rueda Quero (Autor/in)
University of Granada, Department of Sculpture

Giuseppe Cultrone (Autor/in)
University of Granada, Department of Sculpture

Omid Oudbashi (Autor/in)
University of Granada, Department of Sculpture