Poster
Konietzny, Mona; Soppa, Karolina; Haller, Ursula:
Canvas Bonding with Adhesive Meshes
2018
zum Download
DOI (Digital Object Identifier)
Zugehörige Website
Veranstaltung/Präsentation
Beteiligte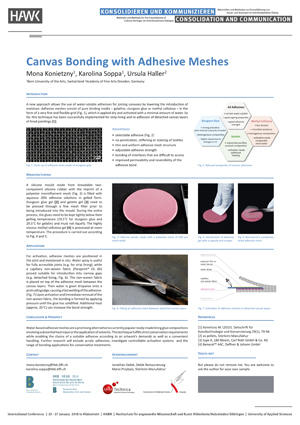 A new approach allows the use of water-soluble adhesives for joining canvases by lowering the water input: adhesive meshes consist of pure binding media – gelatine, sturgeon glue or methyl cellulose – in the form of a very fine and flexible grid. These are produced by filling aqueous adhesive gels into a silicone mould with the imprint of a polyester monofilament mesh. The dried adhesive meshes are then positioned at the joint and activated in situ with a minimal amount of water, either by water spray for fully accessible joints or, by means of a capillary non-woven fabric for narrow gaps. By applying heat up to approx. 35 °C, the bond strength can be increased. The method's advantages match the strict requirements of conservation interventions in terms of minimal introduction of binding media and water for activation. In this way, penetration into the substrates and stiffening or staining of textiles can be avoided in contrast to liquid adhesive applications. With the mesh-structure permeability and reversibility of the adhesive bond can be improved. The technique permits flexibility in the choice of a suitable adhesive according to an artwork's demands and is relatively simple in its application and, as such, involves less risk. Thus, water-based adhesive meshes are a promising alternative to current ready-made lining glue compositions for bonding of textiles in paintings that are sensitive to heat or solvents. So far, the technique has been successfully implemented for strip lining and re-adhesion of detached canvas layers of lined paintings.
Consolidation and Communication. Materials and Methods for the Consolidation of Cultural Heritage: An Interdisciplinary Dialogue.
HAWK University of Applied Sciences and Arts Hildesheim/Holzminden/Göttingen, Hildesheim 25-27 January 2018
zum Download (pdf-Format, ca. 0.81 MB)

Dieses Werk steht unter einer Creative Commons BY-NC-ND 3.0 Deutschland Lizenz.
10.5165/hawk-hhg/366
Mona Konietzny (Autor/in)
Bern University of Applied Sciences

Karolina Soppa (Autor/in)
Bern University of Applied Sciences

Ursula Haller (Autor/in)
Academy of Fine Arts Dresden