Conference paper
Geddes, Jane:
A Sermon in Stone: St Vigeans 7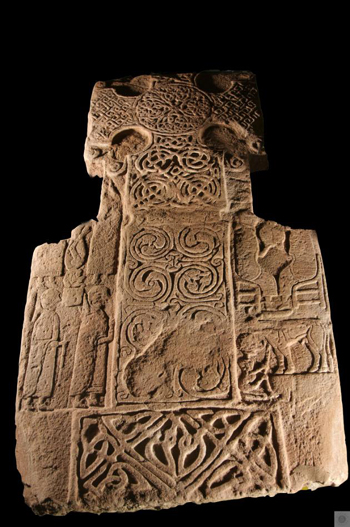 St. Vigeans in Angus, houses one of Scotland's greatest collections of Pictish sculpture from the 8-9th centuries. Its quality vies with the Book of Kells in variety, technical skill and innovation. VIG007 is a cross-slab with four powerful scenes flanking an interlace cross. They depict St Paul and Antony, the fall of Simon Magus, a procession possibly for Candlemas or the New Lights of Easter, and the bull sacrifice of the Taurobolium. The Picts have left no written source material but the iconography of these scenes demonstrates they had access to a wide range of religious art from abroad, both manuscripts and probably icons. Unravelling the textual sources provides evidence of books they must have read, with many comparisons coming from the area of the Holy Roman Empire. The subject matter was highly topical and controversial at the time, dealing with innovations in liturgical practice and extirpating the evil old ways. It covers the right and wrong type of priesthood, the tonsure, the persistence of pagan blood sacrifice, spiritual nourishment, bringing light to the darkness, cleansing and purification. The carving appears to be a distinct response to local circumstances, perhaps even a power struggle between two religious factions, combining visual languages from the Continent and Pictland.
The paper will discuss specific themes from this session, involving local versus foreign, networks, contemporaneity and modes of transfer. To explain the mute Pictish sources, slides will seek comparisons from the contemporary Carolingian world and elsewhere.
Jane Geddes is Professor of History of Art at Aberdeen University, Scotland. Her interests range through manuscripts, metalwork, architecture and sculpture. Working with Dombibliothek Hildesheim, she has put the St Albans Psalter on the web and written The St Albans Psalter: a book for Christina of Markyate (editions in English and German); and the commentary to the facsimile edition to the St Albans Psalter. She has published a monograph on the door hinges of medieval churches, Medieval Decorative Ironwork in England. Her edited book on King's College Chapel, Aberdeen 1500-2000 , includes a study of its remarkable Gothic wooden furnishings. She has overseen the production of two volumes , for Aberdeenshire, of The Buildings of Scotland, part of a series of definitive architectural handbooks for Britain begun by Sir Nicklaus Pevsner. She has researched the design of the museum for Pictish sculpture at St Vigeans, for Historic Scotland, and a monograph on this treasure-house will appear shortly.