Project documentation
Kunde, Holger:
KUR-Projekt: Prunksärge in der Fürstengruft des Merseburger Doms. Abschlussbericht
(Elaborately decorated caskets in the royal tomb at the Merseburg Cathedral)
01.04.2008 to 31.12.2011
Download
DOI (Digital Object Identifier)
URL (Webaddress)
Participants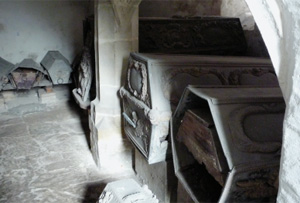 Blick in die Fürstengruft
Im Zeitraum von 2008 bis 2011 konnten die Merseburger Prunksärge konserviert und dauerhaft gesichert werden. Diese in Qualität und Dichte herausragenden Grabmäler des ausgehenden 17. und beginnenden 18. Jahrhunderts waren aufgrund von Vandalismus, Vernachlässigung und Alter in ihrem Bestand gefährdet. Begleitet von einem wissenschaftlichen Untersuchungsprogramm und von Kooperationspartnern wurden angemessene Strategien zur Konservierung erarbeitet und umgesetzt.
Volltext Download (pdf-data format, approx. 0.1 MB)

This work is licensed under a Creative Commons BY-NC-ND 3.0 Germany License.
10.5165/hawk-hhg/epublication/48
Holger Kunde (Author)
Vereinigte Domstifter zu Merseburg und Naumburg und des Kollegiatstifts Zeitz