Article/Book
Żegnalek, Marcin:
Konserwacja popiersia Rzymianki z kolekcji antycznych rzeźb Muzeum Narodowego w Poznaniu
Conservation of the Bust of a Roman Woman from the Collection of Ancient Sculptures at the National Museum in Poznan
2000
Download
Participants, Authors: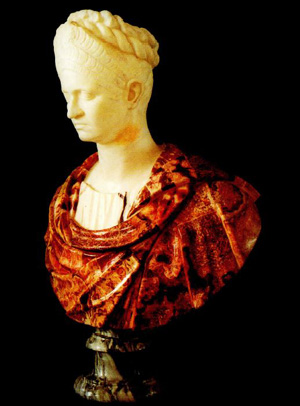 Stan zabytku po konserwacji
The bust belongs to the collection of the National Museum in Poznail. The first stage of conservation works involved dismantling the head and the pedestal from the bust. Next extraction of wax and resinous masses from the marble microstructure of the head and the pedestal was conducted. This procedure was carried out several times with the use of saponfiable compresses. Owing to a vast comparative illustrative material and personal analyses, it was possible to perform sculpture reconstruction. The reconstruction of the sculpture form was carried out on the basis of observation and knowledge of form and style of originally preserved lining. The reconstruction models were formed in modelling body on the object. Silicon forms were made, and then the plates were pressed into putty forms based on epoxy resins and glass-making sand. After epoxy compresses were attached onto volcanic tuff, the imitation of coloured solid lime structures was made on them. In order to achieve this, the layer of gesso by Talens was put onto the reconstructed plates. It also enabled brightening the base coat for further colowful layers. Then, a translucent veneer was spread. It was made on the base of non-yellowing epoxy resins HXTAL NYL- 1 and the PMMA suspension filler, Technovit 4004, and pigments. Resinous veneer was laid matching the appropriate colours of putty depending on an imitated breccia. Acryl paints by Talens and Rowney were used in order to imitate veins, incrustation and crystal layout. The finished lini11gs were strengthened with a thin coat of HXTAL NYL -
I resin. The effect of polish was achieved on these plates in the same way. The reconstruction of ears and all the fillings was conducted on the mass of HXTAL NYL - 1 resin and the PMMA suspension filler, Technowit 4004, and pigments. After combining all the elements of the bust and binding the cracks, the entire object was strengthened with the Bresciani microwax.
Polish Essay with English abstract from the book
Korzeniowski,Tomasz (wyd.): Materiały II, Ogólnopolskiej Konferencji Naukowej Studentów Konserwacji Zabytków,Toruń, 24 - 26 lutego 2000 r., Tom II, Toruń 2000 (= Studenci o konserwacji 2)
Volltext Download (pdf-data format, approx. 2.75 MB)

This work is licensed under a Creative Commons BY-NC-ND 3.0 Germany License.