Article/Book
Wiatr, Grzegorz:
Konserwacja pokrywy czerwono-figurowej wazy greckiej z Muzeum Archeologicznego w Krakowie
The Conservation of the Red-Figured Greek Vase Cover from the Archaeological Museum in Cracow
2000
Download
Participants, Authors: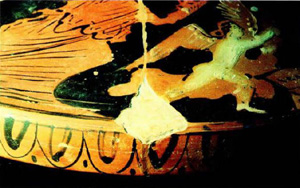 Obiekt w trakcie konserwacji, widoczna zaprawa podkładowa
The paper concentrates on the red-figured Greek Pyksis vase cover dating from the IV century BC. It was created at the Athenian workshop between 3 70 and 340 BC. The first stage involved sampling the painting layer and the sherd for detailed study. Then plaster fillings were removed and the cover was unstuck into pieces. Conductometric investigations revealed the presence of 0.91% of salt amount. Such an amount indicated the necessity to desalt the object. The next step was to reassemble all the pieces into one entity using 30% solution of poly(vinyl acetate) in ethyl alcohol. The gap filling began with making a silicon cast of the preserved part of the cover rim as to perform the most precise reconstruction of its missing part. Then the form replaced the gap, and was subsequently filled with ground coat mortar. The top putty was made of the Vienna ground. The painting reconstruction was then conducted on the prepared surface. The red parts were pointed by means of aquarelles and gouache (white). The black parts were also filled using the aquarelle technique. The metallic polish was acquired through adding powdered silver mixture into particular paints. The missing rim ornament was filled in the painter's manner.
Polish Essay with English abstract from the book
Korzeniowski,Tomasz (wyd.): Materiały II, Ogólnopolskiej Konferencji Naukowej Studentów Konserwacji Zabytków,Toruń, 24 - 26 lutego 2000 r., Tom II, Toruń 2000 (= Studenci o konserwacji 2)
Volltext Download (pdf-data format, approx. 3.39 MB)

This work is licensed under a Creative Commons BY-NC-ND 3.0 Germany License.