Article/Book
Babś, Marek:
O restauracji XVII w. podominikań s kiego zespołu klasztornego i kościoła św. J acka w Klimontowie.
On the Restoration of the Seventeenth-Century Dominican Monastery Complex and St Jacek's Church in KJimontow
2000
Download
Participants, Authors: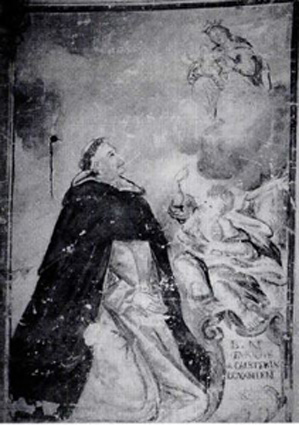 Skarbczyk kościola. XVII w. szafa. Stan przed konservacją. Fot. M. Babś
The author describes complex conservatory works, which have been conducted at the monastery since 1989. ln 1998 the emblem and the names of Casper and Sebastian Fodyga (so far the unknown creators of the church and the monastery) were discovered. Several wall paintings were found under deposits, and the bone remains of Jan Zbigniew Ossoliilski, the founder of the monastery, were discovered. The author's work involved the conservation of the wall painting (circa 1633). Having removed deposits (whitewash), the pamting turned out to be in worse condition than on the archival photographs. At the time of redecoration works in the 1980s, the painting was destroyed as a result of fitting a few electric installations into the wall. During the present conservation, cement mortar and electric cables were removed. Strengthening bands (margins based on mineral lime-sand mortar) were mounted on the edges of the originally preserved plaster. Local impregnation of weaker mortar was perfom1ed by applying Syton 30X, a silicoorganic product. The fragments of chipping mortars were glued with a material made of hydraulic lime (Ledan). The preserved painting layer was fixed with Paraloid 872 solution in toluene. The missing elements in mortar were filled with mineral lime-sand mortar according to the original painting technology. The painting layer was fi lled with pigments resistant to alkaline environment with Paraloid 882 in ethanol.
The conservation works were completed in the presbytery. The original plaster works and vault were restored. Works on the nave will begin shortly. Initial investigations show that other paintings may be discovered.
Polish Essay with English abstract from the book Korzeniowski,Tomasz (wyd.): Materialy II, Ogólnopolskiej Konferencji Naukowej Studentów Konserwacji Zabytków,Torun, 24 - 26 lutego 2000 r., Tom II, Torun 2000 (= Studenci o konserwacji 2)
Volltext Download (pdf-data format, approx. 2.86 MB)

This work is licensed under a Creative Commons BY-NC-ND 3.0 Germany License.