Article/Book
Karsay, Csilla:
Konserwacja wapiennego portalu kościoła p.w. św. Wawrzyńca Męczennika i św. Stanisława Biskupa, Żółkiew, Ukraina
Conservation of the Limestone PortaJ of the Church of St Lawrence the Martyr and St Stanislaw Bishop, Zotkiew, Ukraine
2000
Download
Participants, Authors: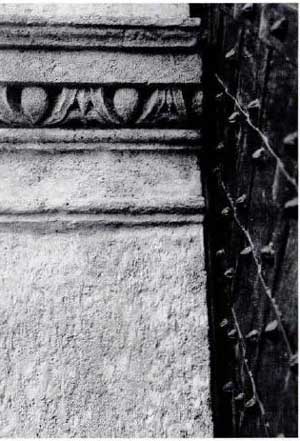 II. 6. Obiekt po konserwacji (fragment lewego węgara). Fot. C. Karsay
For ten years the students of conservation schools have been conducting conservation works in i6Uciew, Ukraine. During those years over a hundred young conservators from Warsaw, Cracow, Torun and Köln have worked in this town. Every year there are more and more people willing to join in. So far the works have been conducted inside the church of St Lawrence the Martyr. Most interior decorations have already been restored. The author of this article has worked on the conservation of the late Renaissance portal from the first quarter of the seventeenth century. It presents a sophisticated sculptural decoration and is located in the central part of the church facade.
Polish Essay with English abstract from the book
Korzeniowski,Tomasz (wyd.): Materialy II, Ogólnopolskiej Konferencji Naukowej Studentów Konserwacji Zabytków,Torun, 24 - 26 lutego 2000 r., Tom II, Torun 2000 (= Studenci o konserwacji 2)
Volltext Download (pdf-data format, approx. 2.3 MB)

This work is licensed under a Creative Commons BY-NC-ND 3.0 Germany License.