Article/Book
Kolodziej, Justyna:
Składniki handlowych preparatów stosowanych w konserwacji do usuwania przemalowań olejnych i ich szkodliwość
The Ingredients of Commercial Preparations Applied in the Conservation to Remove Oil Repainting and their Harmfulness
2000
Download
Participants, Authors: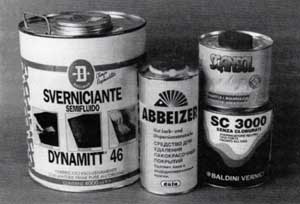 Fot. Waldemar Grzesik
The conservators reach for commercial products to remove oil repainting more frequently. The producer, however, does not always include the composition of a product, but only warns against the harmfulness of a particular product through a sign. At the Department of Conservation of the Polychrome Painting and Sculpture in Toruil., several tests were carried out to determine the contents of toxic substances in the room where the conservation of an object was performed by means of the following products: ABBEIZER, SKANSOL, DYNAMITT. Thanks to the chromatographic method, the investigation results revealed that the products contained the following hazardous substances: XYLENE, DICHLOROMETHANE, ETHYLOBENZENE, and BENZENE. In response the Company decided to withdraw AIBBEIZER from the production, and special caution was to be preserved with the use of DYNAMITT and SKANSOL. Due to the fact that cancer appears only after several years or even generations, there are no norms concerning the usage of numerous carcinogenic substances. It must be remembered that long-lasting activity of small dosages eventually sums up. The biggest contamination results from inhalation and absorption. The best method is to wear protective equipment: masks, goggles, poly( ethylene) gloves as well as work in a room with a digester or air respirator.
Polish Essay with English abstract from the book
Korzeniowski,Tomasz (wyd.): Materialy II, Ogólnopolskiej Konferencji Naukowej Studentów Konserwacji Zabytków,Torun, 24 - 26 lutego 2000 r., Tom II, Torun 2000 (= Studenci o konserwacji 2)
Volltext Download (pdf-data format, approx. 2.5 MB)

This work is licensed under a Creative Commons BY-NC-ND 3.0 Germany License.
Justyna Kolodziej (Author)