Article/Book
Pikus, Marcin:
Konserwacja piaskowcowej rzeźby św. Jadwigi Śląskiej z Żagania
The Conservation of the Sandstone Sculpture of Saint Jadwiga of Silesia from Żagan
2000
Download
Participants, Authors: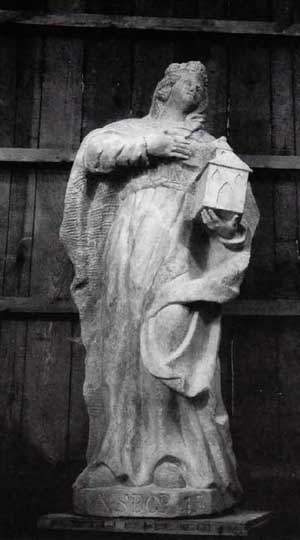 II. 13. Stan obiektu po konserwacji
The aim of the conservation was to restore the expositive value of the object. Apart from cleaning the object of black layers covering it, and the removal of sprouting microflora, and the removal of ugly brownish oily areas, these works also aimed to restore the patency and porosity in the superficial layers of the stone. The extraction was conducted after oils bad been put through water-soluble soaps using compresses of various compositions. The next step was to glue broken pieces of the historical object and fill the missing parts. The range of reconstruction was determined on the grounds of the object safety and its aesthetic values. Mineral mortar on the base of cement and hydrated lime was applied in the reconstruction and gap filling. Using patination the fillings were bound in accordance with the colours of the original stone. Afterwards the sculpture was put through impregnation by means of the hydrophobic and strengthening silicoorganic Steinfestiger H. The article includes both composition and proportions of the applied mixtures as well as the commentary to the obtained results. Moreover, the enclosed photographs illustrate the course of the conservation, taking into account the reconstruction of a substantial fragment of the figure.
Polish Essay with English abstract from the book Korzeniowski,Tomasz (wyd.): Materialy II, Ogólnopolskiej Konferencji Naukowej Studentów Konserwacji Zabytków,Torun, 24 - 26 lutego 2000 r., Tom II, Torun 2000 (= Studenci o konserwacji 2)
Volltext Download (pdf-data format, approx. 2.93 MB)

This work is licensed under a Creative Commons BY-NC-ND 3.0 Germany License.