Article/Book
Weyer, Angela; Roig, Pilar; Pop, Daniel; Cassar, JoAnn; Özköse, Aysun; Vallet, Jean-Marc; Srša, Ivan:
EwaGlos - European Illustrated Glossary of Conservation Terms for Wall Paintings and Architectural Surfaces
English definitions with translations into Bulgarian, Croatian, French, German, Hungarian, Italian, Polish, Romanian, Spanish and Turkish second revised digital version 2016 (of the print version: Petersberg 2015)
Japanese Translation of the English Terms
2018
Download
DOI (Digital Object Identifier)
URL (Webaddress)
Participants, Authors: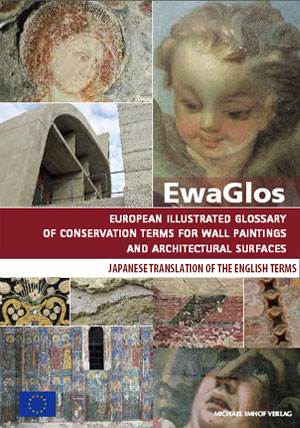 Book cover
The EU Project 2013-2015
EwaGlos, which has been developed as part of a first of its kind EU project in eleven languages, highlights the crucial role that professionally developed multilingual vocabularies play in international preservation campaigns. The illustrated glossary stresses the importance of a common language in the conservation field, and the role that international cooperation plays in creating this common terminology.
The core of the glossary comprises approximately 200 def­initions of terms frequently used in specifications in the field of conservation-restoration of wall paintings and architectural surfaces. The forewords and preface of the book introduce professionals, students and decision-makers to complex issues encountered in the development, and use, of such terminologies. The book concludes with an extensive bibliography in this specialised field.
Revised Second Digital Edition in December 2016
On the basis of a global survey, the consortium has been able to identify the areas in which the glossary could be improved. What could be changed in the pdf, such as typing errors, hyphenations, suitable pictures etc., has been published as revised second digital edition of the glossary on the project website in December 2016.
Japanese Translation
The translation into Japanese was carried out by 14 Japanese people who work on the scientific study of conservation and restoration of cultural properties. Among them, 8 people belong to the Institute for Conservation of Cultural Property of Tohoku University of Art and Design including me. Other contributors belong to University of Tsukuba, Kyoto University, Kindai University and Mukogawa Women's University. Name of the contributors are as follows: Takeshi Ishizaki, Sachio Yonemura, Eriko Nakau, Akari Nagamine, Sayaka Deguchi, Masakazu Naruse, Juni Sasaki, Kaho Ishizawa (Tohoku University of Art and Design), Yoko Taniguchi (University of Tsukuba), Daisuke Ogura, Chiemi Iba, Etsuko Mizutani (Kyoto University), Masaru Abuku (Kindai University), Tomoko Uno (Mukogawa Women's University)
Download (-data format, approx. MB)

This work is licensed under a Creative Commons BY-NC-ND 3.0 Germany License.
10.5165/hawk-hhg/386
Angela Weyer (Author)
HAWK Hochschule Hildesheim/Holzminden/Göttingen, Hornemann Institut
Pilar Roig (Author)
Universitat Politècnica de València
Daniel Pop (Author)
University of Art and Design, Cluj-Napoca
JoAnn Cassar (Author)
University of Malta
Aysun Özköse (Author)
Karabük Üniversitesi (KBU)
Jean-Marc Vallet (Author)
Centre Interdisciplinaire de Conservation et Restauration du Patrimoine (CICRP), Marseille
Ivan Srša (Author)
Croatian Conservation Institute (HRZ), Zagreb
Mariarosa Lanfranchi
Márta Guttmann
Axel Ermert
Stefan Belishki
Dörthe Jakobs
Roland Lenz
Ewa Święcka
Heritage Adrian
Takeshi Ishizaki
Tohoku University of Art and Design, Japan