Article/Book
Weyer, Angela; Roig, Pilar; Pop, Daniel; Cassar, JoAnn; Özköse, Aysun; Vallet, Jean-Marc; Srša, Ivan:
EwaGlos - European Illustrated Glossary of Conservation Terms for Wall Painting and Architectural Surfaces
Russian Translation of English Definitions with corresponding terms in Arabic, Bulgarian, Hungarian, Spanish, Italian, German, Persian, Polish, Romanian, Turkish, French, Croatian, and Japanese
2020
Download
DOI (Digital Object Identifier)
URL (Webaddress)
Participants, Authors: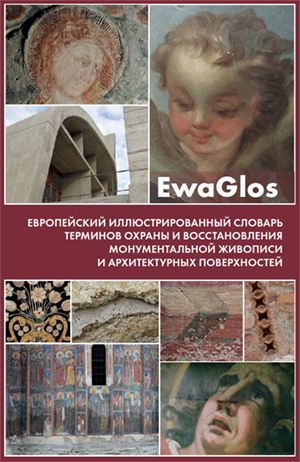 Обложка книги | book cover
EwaGlos

Европейский иллюстрированный словарь
терминов охраны и восстановления
монументальной живописи и архитектурных поверхностей

Русские переводы английских дефиниций с соответствиями на арабском, болгарском, венгерском, испанском, итальянском, немецком, персидском, польском, румынском, турецком, французском, хорватском и японском языках
Научные редакторы Анжела Вайер, Пилар Роиг Пиказо, Даниэль Поп, Джоанн Кассар, Айзун Oскёзе, Жан-Марк Валле, Иван Срша Редактор русского перевода Юлия Грибер, Москва 2020
Словарь предназначен для тех, кто профессионально связан с реставрацией и сохранением культурного наследия. Книга будет полезна аспирантам, студентам, учащимся в процессе изу-чения широкого круга дисциплин, связанных с историей и традициями сохранения культурного наследия.
Словарь издан при поддержке гранта Президента Российской Федерации, предоставленного Фондом президентских грантов (проект № 19-2-017242).
___
Edited by Аngela Weyer, Pilar Roig Picazo, Daniel Pop, JoAnn Cassar,
Aysun Özköse, Jean-Marc Vallet, Ivan Srša, Editor of the Russian Translation: Yulia Griber, Moscow 2020
The dictionary is intended for those who are professionally associated with the restoration and preservation of cultural heritage. The book will be useful to students and specialists in a wide range of disciplines related to the history and traditions of preservation of cultural heritage.
The dictionary was published with the support of a grant from the President of the Russian Federation provided by the Presidential Grants Fund (project No. 19-2-017242).
Volltext Download (pdf-data format, approx. 5.82 MB)

This work is licensed under a Creative Commons BY-NC-ND 3.0 Germany License.
10.5165/hawk-hhg/442
Angela Weyer (Author)
HAWK Hochschule Hildesheim/Holzminden/Göttingen, Hornemann Institut
Pilar Roig (Author)
Universitat Politècnica de València
Daniel Pop (Author)
University of Art and Design, Cluj-Napoca
JoAnn Cassar (Author)
University of Malta
Aysun Özköse (Author)
Karabük Üniversitesi (KBU)
Jean-Marc Vallet (Author)
Centre Interdisciplinaire de Conservation et Restauration du Patrimoine (CICRP), Marseille
Ivan Srša (Author)
Croatian Conservation Institute (HRZ), Zagreb
Yulia Grieber
Smolensk State University, Department of Sociology and Philosophy