Article/Book
Røskar, Tanja:
The Voice Of Conservation-Restoration On Multi-Disciplinary Restoration Projects
2019
Download
DOI (Digital Object Identifier)
URL (Webaddress)
Participants, Authors: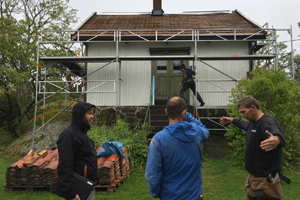 Conservator-restorer or architect? The restoration of buildings requires many people. Photo: Tanja Røskar
As conservator-restorers we should be "a voice of reason", an advocate that speaks for the cultural heritage values of our built heritage. However, we are often only one voice in a large group consisting of everything from structural engineers, geologists and carpenters to economic advisors and bureaucrats. Being a conservator-restorer in such settings often turns out to be a great balancing act. On the one hand, we are supposed to protect the buildings against any intervention that will compromise its authenticity and cultural values. On the other hand, we must allow as much protective work as possible to ensure the buildings' future. Questions that can arise for a conservator-restorer during and after discussions in multi-disciplinary groups are many. Questions that needs answering before work starts. Are the conservator-restorer and the master craftsperson really on each end of the scale in a project, or is it just that we use different words? Is it conservation ethics versus the practical view of the engineer, or can both sides be pragmatic and find a new and possibly better solution? Is it possible that the conservator-restorer and the funding body can meet in the middle, or can that jeopardize the project?
Citation: Tanja , Røskar: The Voice Of Conservation-Restoration On Multi-Disciplinary Restoration Projects, in: Protection of Cultural Heritage, (8), 2019, p. 281-298, doi:10.35784/odk.1098
Download (pdf-data format, approx. 2.09 MB)

This work is licensed under a Creative Commons BY-NC-ND 3.0 Germany License.
10.35784/odk.1098