Article/Book
Maierbacher-Legl, Gerdi; Buchholz, Ralf; Fiedler, Christine; Karius, Susanne:
Das Tobsdorfer Chorgestühl und seine Restaurierung. Siebenbürgische Chorgestühle des Meisters Johannes Reychmut aus Schäßburg
14.09.2021
Download
DOI (Digital Object Identifier)
Participants, Authors: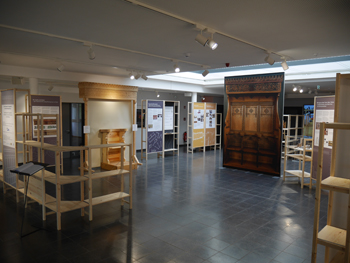 Einblick in die zur Publikation gehörenden Ausstellung im Foyer der HAWK, 2018.
Sieben Jahrgänge der Konservierung- und Restaurierungsstudiengänge der HAWK in Hildesheim haben am Chorgestühl aus Tobsdorf (Siebenbürgen) von 1537 gearbeitet und geforscht. U.A. wurde die durch holzzerstörende Insekten stark geschädigten Holzteile mit einer Kunstharzlösung gefestigt und das Chorgestühl dem Schäßburger Schreinerwerkstatt von Johannes Reychmut zugeordnet. Diese Publikation erläutert die Arbeiten in der HAWK und vermittelt einen Eindruck von der reichen historischen Innenausstattung der Siebenbürgischen Kirchen.
The famous choir stalls from Tobsdorf in Transylvania dating from 1537 are standing again. Seven years of conservation and restoration courses at the HAWK University of Applied Sciences and Arts Hildesheim/Holzminden/Göttingen have worked and researched on the sacred piece of furniture. One of the main tasks was to consolidate the wooden parts, which had been severely damaged by wood-destroying insects, with a synthetic resin solution. It was also possible to attribute the choir stalls to the Sighisoara carpentry workshop of Johannes Reychmut.
This publication presents the work of the HAWK and gives an impression of the rich historical interior decoration of Transylvanian churches. The texts and illustrations accompany the choir stalls from their rediscovery, through their conservation and restoration, to their departure for their new location in the St. Margret's church in Mediasch.
Insight into the exhibition in the foyer of the HAWK corresponding to the publication, 2018.
The exhibition catalogue is also available in Romanian
Maierbacher-Legl, Gerdi; Buchholz, Ralf; Fiedler, Christine; Karius, Susanne:
Stranele din Dupuș și restaurarea lor. Stranele transilvănene ale meșterului Johannes Reychmut din Sighișoara. HAWK Hildesheim/Holzminden/Göttingen 2021
doi:10.5165/hawk/483
Volltext Download (pdf-data format, approx. 6.95 MB)

This work is licensed under a Creative Commons BY-NC-ND 3.0 Germany License.
10.5165/hawk/482
Gerdi Maierbacher-Legl (Author)
HAWK Hildesheim
Ralf Buchholz (Author)
HAWK Hildesheim
Christine Fiedler (Author)
HAWK Hildesheim
Susanne Karius (Author)
HAWK Hildesheim