Article/Book
Hammer, Ivo:
The white cubes haven't been white. Conservators of the HAWK University of Applied Sciences and Arts in Hildesheim are investigating the facades of the Tugendhat House in Brno
05.05.2004
Download
DOI (Digital Object Identifier)
Participants, Authors: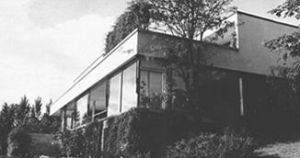 Brno, Tugendhat House, 1928-30, Ludwig Mies van der Rohe. The lush vegetation on the facades is part of the artistic conception of Mies van der Rohe, aiming to a visual continuum between interior and exterior space. Photo Fritz Tugendhat, arr. 1934.
The famous Tugendhat House in Brno, Czech Republic, planned and built by Ludwig Mies van der Rohe from 1928-1930, one of the most outstanding buildings of European modernism, was included in the List of the UNESCO World Cultural Heritage since 2001. The legendary pavilion of Barcelona, planned in the same time, has been dismantled in 1930 and is existing today only as a modern copy of its original as it has been rebuilt. Other early works of Mies van der Rohe have been reconstructed as well to a great extent. It is therefore of special value, that the historical fabric of the Tugendhat House is still preserved in substantial parts.
Volltext Download (pdf-data format, approx. 0.19 MB)

This work is licensed under a Creative Commons BY-NC-ND 3.0 Germany License.
10.5165/hawk-hhg/201